*The following article is an interview with Professor Joeffrey Maddatu Calimag, President of CAPK and Assistant Professor at the Global Management Department of the University of Ulsan
1. Please introduce yourself and the Council of ASEAN Professors in Korea (CAPK).
Originally from the Philippines, I first came to Korea in 2002 as a scholar and a global ambassador fellow at Korea Development Institute School of Public Policy and Management and later continued to pursue my PhD at Hanyang University through the support of Korea Foundation. Then I earned an advanced Project Management credential from Stanford University in the United States. Currently, I am an assistant professor at the Global Management department of the College of Business Administration of the University of Ulsan teaching International Business, Trade and Global Management and Korean Economy and Conglomerates.
After having lived in South Korea for almost a decade, I was ready to leave the country applauding its vast and tremendous economic achievement. There were a number of learnings I could bring with me to share in my country or in other regions. However, I wanted more of Korea in all aspects. I have been deeply involved in the social and economic affairs that gave me a niche to better understand Koreans' psych and emotion. My goal was to become a Koreanists, an expert on Korea to say the least. This motivation prompted me to explore more about the country and decided to stay.
My role as an ASEAN professor in Korea gave me this fulfillment of not only sharing knowledge in my field or expertise but educating my students on diversity and inclusivity. Introducing them about respecting and embracing the differences beyond Korea was an accomplishment in itself, especially on how Koreans perceive non-Koreans of color. My position gave me an advantage and an opportunity to promote the welfare of non-Koreans, especially those from South East Asia. I had this vision that incrementally, the society can be molded to a more encompassing and harmonious multicultural Korea.
CAPK was initiated by the ASEAN-Korea Centre (AKC) on the occasion of the 30th anniversary of ASEAN-Korea dialogue partnership in 2019. It was founded as an advisory committee composed of professors and researchers from ASEAN countries who are currently working in Korea. The mission is to enhance the awareness of ASEAN countries among Koreans and to build stronger relations between Korea and respective ASEAN countries, particularly through the members' positions as academics in Korea. Most importantly, CAPK aspires to become the source of valuable information and resources that will have an immense impact to the region and the world.
For the Council of ASEAN Professors in Korea or CAPK, we believe that we play a crucial role in facilitating a stronger partnership between ASEAN and Korea, especially in the context of education exchange. As professors and researchers, we are in an advantageous position to connect Korea to South East Asia and vice-versa.
2. What are the reasons for ASEAN professors and researchers to come and teach in Korea and what are their major interests and fields?
The reasons of our members to come to Korea are very diverse, both at personal and professional level. Some came for gaining global experience, for socio-economic reason, for career growth opportunity and change of environment. Although many came because of our language advantage, teaching our national language such as Bahasa Indonesia, Thai, Vietnamese, Khmer, and Burmese. A number of Filipino and Singaporean professors are teaching English as well.
For those who have a more and semi-permanent status in Korea, they teach content courses. I teach business-related courses. We have a Thai professor teaching International Relations, a Vietnamese professor teaching engineering, a Singaporean teaching TESOL and another Filipino teaching Sports Management. We come from different backgrounds where we have members in the field of culinary, tourism management, computer and information technology, early childhood education, accounting and among others.
3. This COVID-19 has changed the way of living and how do the ASEAN professors/researchers in Korea adapt to these changes?
Due to COVID19, most of the universities in Korea have shifted the delivery of lectures from offline to online. We did work-from home or WFH. We were given options to prerecord our lectures, use special online video platforms for live lectures or a combination of the two. On the onset, it may seem to appear easier and more convenient. But after weeks of doing sedentary and the same activity like talking to a monitor, professors felt exhausted. Some of our members have gone into discovering new hobbies such as baking and sports to counter the anxiety brought by the pandemic. Many of us have dived into conducting researches.
It is our summer vacation now, but most of us are not going home primarily because of the quarantine requirement. If we go home, we would be just spending all our days for self-quarantine or in a quarantine facility in our country and also when we come back to Korea. Travel is very much restricted, so most of our members have postponed their travel plans.
4. As a president of CAPK, what is the role of ASEAN professors/researchers in Korea for A-K relations and what the Korean public need to know about ASEAN professors/researchers?
Adopting from the text of my speech during CAPK's inauguration last August 28, 2019, I reiterated, "ASEAN as a region is an important partner of Korea in pursuing progress and further growth by cultivating their synergies and complementing each other's strengths. More significantly, the New Southern Policy of President Moon Jae In, compels us to be more active in capturing these opportunities and seizing threats that may go along with the growing and stiffer global competition, while building on our strengths and reassessing our shortcomings."
Moreover, I would also share what the Secretary-General of AKC say about the role of CAPK in ASEAN-Korea relations. Ambassador and Secretary-General Lee Hyuk noted that, "As different layers of people-to-people exchanges among ASEAN and Korean people burgeon with the deepening of ASEAN-Korea relations, CAPK could play an active and significant role in the intellectual society of the two sides which can influence their students and general public in the long run. ASEAN professors in Korea will contribute to public diplomacy efforts to deepen the understanding of ASEAN and ASEAN-Korea relations among Koreans, expand the network of professors and researchers in ASEAN and Korea, and stimulate future scholars in ASEAN to join the community to do research and teach in Korea."
Given such current environment, our role as professors and researchers could not be emphasized more. It is rather much more required and demanded now. ASEAN professors and researchers are partners for national and regional development by producing and disseminating information crucial for the call of times. With the increasing significance of ASEAN for South Korea, CAPK will take the responsibility to represent its peoples to promote and advance its interests and agenda in different media platforms as resource speakers and at roundtable discussions. It will also take representations in high-level events and gatherings. The relationship of ASEAN and Korea would be improved significantly through understanding. Similarly, our member professors and researchers will be catalysts and play this noble role.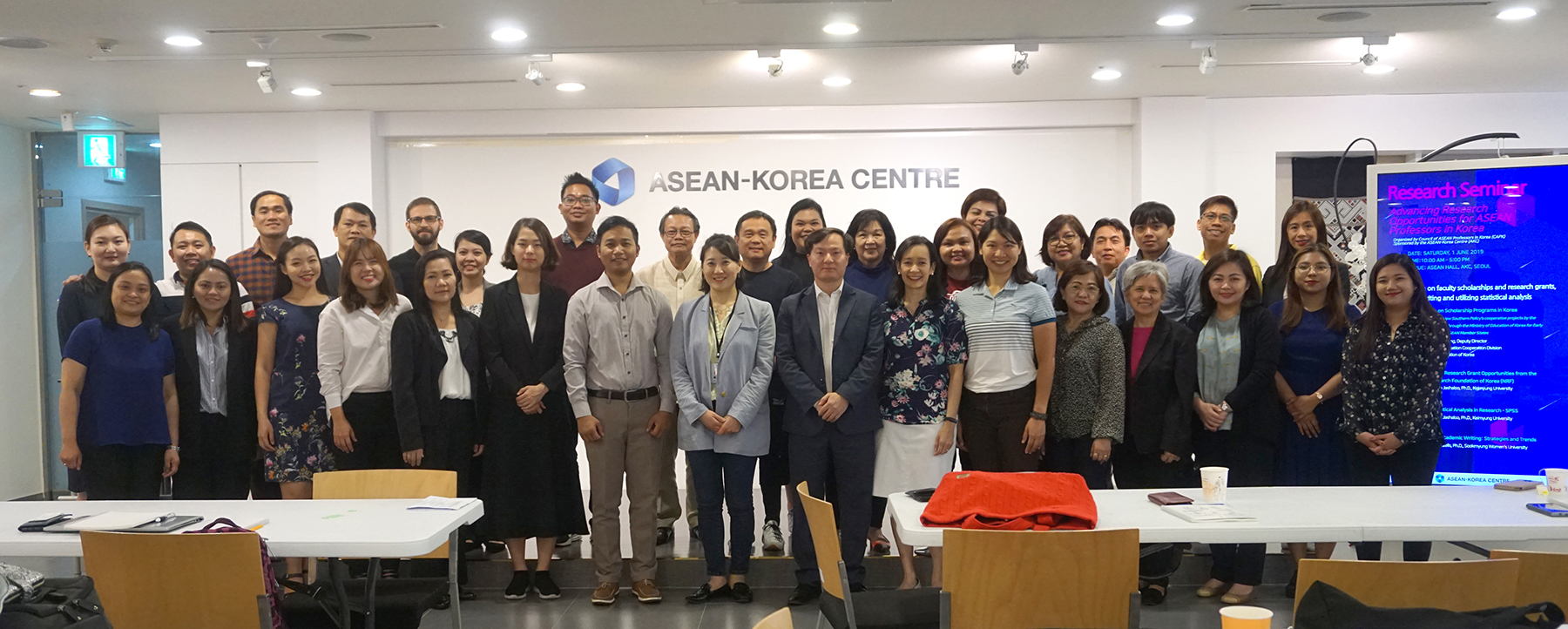 5. Please explain future activities and plans of CAPK.
Since the inception of the CAPK last year, we have engaged in various programs organized by AKC such as judges for ASEAN-Korea Academic Essay Contest and speakers for the academic conference. Also, CAPK has conducted capacity-building workshops for research and writing skills and networking activities. Although planned activities for this year are downscaled due to COVID-19, we are trying to focus on strengthening the internal stability by expanding membership and utilizing our professionalism as educators and researchers. One of main projects will be conducting the online survey from 31 July to 14 August to identify those who are currently working in Korea and who previously stayed in Korea as professors and researchers. Based on the collected information, we will build the database on ASEAN professors and researchers in Korea and connect them each other by interests or majors. Also, CAPK plans to develop and produce online lecture materials on ASEAN and Korea considering 'Ontact' trend.
Of course, we will also take care the welfare of our members and our respective communities in Korea as there are challenges encountered by our citizens on a daily basis that can be an opportunity to explore.